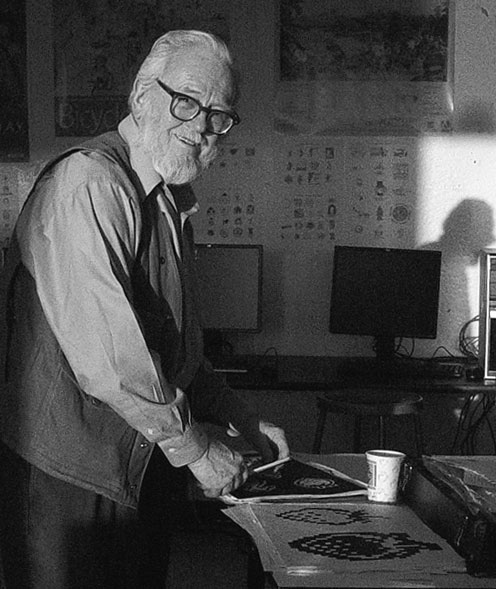 A Brief History
There were no idle moments in Fred Griffin's Creative life. His spare time was filled with hunting and selecting materials for his work, whittling and sketching or just making marks that snowballed into designs, assemblages and paintings.
Fred Griffin majored in art studies at the University of Washington for four years; then attained his B.A. from Chouinard Art Institute, now California Institute for the arts, in Los Angeles, majoring in design and motion picture production. Griffin was an instructor, painter and artist. He, like his work, has been described as daring, experimental, whimsical, and fascinating -- always coming up with a unique perspective or combination of media. He created with fragments he collected during his wanderings as well as other non-traditional media such as mustard, tea, paper plates, driftwood and rope.

His many showings included the Pacific Northwest Arts and Crafts Gallery in Bellevue, The Sanders Gallery in Seattle, The Northwest Art Exchange in La Conner and the Skagit Valley College Foundation Gallery.

His work has been accepted in many regional exhibitions, including the 1991 Puget Sound Country Show at the Enck Gallery in Bellevue, the 1992 Annual Puget Sound Area Exhibition at the Charles and Emma Frye Museum in Seattle and the Bellevue Art Museum 10/40 Anniversary Celebration.

Griffin juried for both the Seattle and Washington State Arts Commissions, the Seattle Art Museum and Edmonds Art Festival.

Griffin had a life-long passion for teaching, which began in 1960 as a faculty member of the Burnley School of Professional Art, and later became The Art Institute of Seattle, where he continued to work until 2010. He also taught at Bellevue Community College and Cornish College, Seattle.

Griffin is well-known for his "Design Code" -- a simple cross-reference for navigating through the process of design. His ideas and teachings have influenced many top designers during his 50 years as teacher and mentor.